Mission
The Rosebud Foundation's Mission is to ensure the availability of quality health care in our region by building a permanent endowment.  Included in that Mission is a commitment to enhancing existing patient services at Rosebud Health Care Center by helping to fund improvements.

If you would like to become involved with The Rosebud Foundation, or one of its activities, contact any of the persons on the following list – or visit our FACEBOOK page.
•    Scott Klein, President (406) 346-2111
•    Waine Milmine, Vice President (406) 342-5700
•    Karla Allies, Treasurer (406) 351-3855
•    Carole Raymond, Secretary (406) 351-9028
•    Chuck Evans, Director
•    Suzanne Brooks, Director
•    Nancy Purkett, Director
•    Dee Raymond, Director
•    Ryan Tooke, Director
Foundation Headquarters (406) 346-4213
MAY
Annual Kentucky Derby Benefit – To raise operating capital for The Rosebud Foundation.
The Kentucky Derby Benefit, formerly known as The Black Tie & Blue Jeans Event
This is an annual fundraiser designed to cover the operating costs of The Rosebud Foundation. In the past, this meal has been prepared by renowned local gourmet chef, Albert Martens. All associated costs, including the food, were graciously donated by Albert and Rita. The Martens have announced their retirement from this event, so attendees can expect some exciting changes. What will remain the same, is the important purpose of this wonderfully successful event.
Click HERE for tickets to this year's Kentucky Derby Benefit
JULY
Annual 'Fore Health Golf Classic' @ Forsyth Country Club – Raises funds to purchase equipment.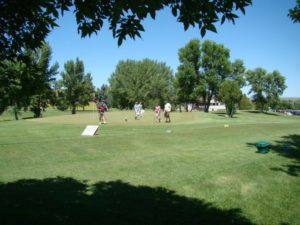 All proceeds from this event are used to purchase equipment to enhance services to the elderly and patients served by RHCC. Funds from this event have been used as match dollars for grants thus bringing in the funds necessary to improve the quality of life for those living in the long-term care unit, or improve the quality of care for hospital patients.
A list of funds and facility upgrades made possible by the proceeds of the Fore Health Golf Classic is as follows:
Since 2000 – Fore Health Golf Tournament has raised $56,175.
Equipment purchased:
o    Blood Plasma Refrigerator
o    $6800 Treadmill & PT Equipment
o    $5800 ICU Wireless Monitor
o    $9348 Wander Guard System
o    $XXXX Mechanical Nurse – $1800.
Family room contribution:
o    $1500 Two orthopedic chairs for waiting room
o    $400 Low level nursing home beds Two lifts
o    $5000 Eden Alternative
o    $3000 Elder safety monitors – Hearing assessment equipment.
OCTOBER
Annual 'Trick or Trot Halloween 5k'
October 2017, we will host our first annual Trick or Trot 5k walk.  All proceeds from this event will be used to purchase equipment to enhance services to the elderly and patients served by RHCC.
NOVEMBER
Annual Lighting of the Luminaria at Rosebud County Courthouse – proceeds are added to the permanent endowment earmarked to anchor quality healthcare in the region for future generations.
GRANTS
For grants secured the proceeds are as follows:
2000: $50,000 Coal Board Grant to install carpet & paint
2007: $135,000 Coal Board Grant to install a new phone system and purchase 11 hospital beds & accompanying over-the-bed-tables, and small bedside storage unit.
2009: $165,000 Coal Board Grant to complete a Preliminary Architectural Report on the RHCC facility; replace flooring in the facility; install automatic door openers; replace 35-year-old nurse call light system with a pager system (long-term-care-unit only)
2010: $100,000 Community Transportation Enhancement Project (CTEP) award – This is funded by federal gas tax dollars. A Master Plan for the grounds at RHCC will be developed, including sprinkling, patio design compatible with use by the elderly; study of an alternative water source; sidewalk replacement and ADA access to the 1920's structure that houses the Rural Health Clinic.
June 2010: Montana Department of Transportation – A new bus to transport the elderly to appointments, field trips and community activities.