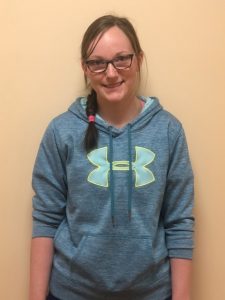 Please help us welcome and congratulate Jamie to a new and additional opportunity with Rosebud Health Care Center. As most of you probably already are aware, Jamie assumed the duties of Lead Housekeeper on March 12, 2018.
Jamie began her career at RHCC with the housekeeping department on August 7, 2017, working her way to her current position with hard work and commitment.
Jamie was born in Cody, WY and she moved to Hysham when she was 2 years old. She graduated from Rosebud with 5 other students.
Jamie has an easy going personality, is professional in her approach to her career and a loyal friend to RHCC.
Please stop by her office and offer both congratulations and support for her new position.