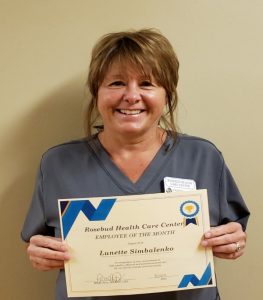 Lunette Simbalenko August 2019 Employee of the Month
Lunette moved to Forsyth in May 2009 to finish 2 years of nursing in Miles City. She married Jeff Simbalenko in 2011. She has been employed at Rosebud Health Care Center for 7 years. She has one son and 4 grandchildren.
She is proud of her entire family and best friend for overcoming rough obstacles that all have encountered, with positive attitudes and God's grace.
Lunette's favorite quote, "I was raised to show respect," She was taught to knock before opening a door, say thank you and please and to show my elders respect. She will give up her seat for someone who needs it. Say "excuse me" and to give someone help, and not stand on the sidelines and watch. She was raised to treat people exactly how she wants to be treated by others. It's called RESPECT!
Lunette likes to golf, camp, fish, hike, and anything to do with family!