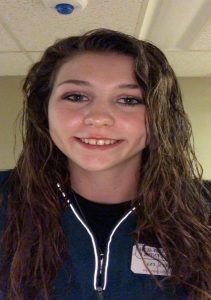 Congratulations goes out to Anya Schaunaman who has been selected as the Rosebud Health Care Center's August Employee of the Month!
Anya is a Certified Nursing Assistant (CNA) in the Hospital/ED.  She joined RHCC in August 2019 as a CNA student; she enjoyed the class very much and especially her teacher, Marie Rangel, who pushed her to do her very best.
Anya has always had a passion to either to work on a ranch with animals and/or somewhere in the medical field. She is fortunate as she is  currently able to do both! Her and her fiancé, who are planning their wedding in 2021, currently live on a ranch that he works on and her role as a CNA has allowed her to take a step into the medical field. She enjoys working in the Hospital/Emergency Department as it is very fast paced, and you never know what will come through the doors.
Outside of work, you will usually find Anya with her hair in a messy bun, outdoors working with and/or riding horses. She also enjoys hunting and many crafts. Her favorite past time, however, is when she gets to be with her fiancé and family. She values family time as her four siblings live out of state so when they have an opportunity to be together, she looks forward to it very much.
One thing she has learned in life is if you really want something you need to push yourself to get there. If you fail once you must try again until you succeed. Remember tomorrow will always bring a fresh start. Anya's favorite quote is from Christopher Columbus, "You can never cross the ocean unless you have the courage to lose sight of the shore."