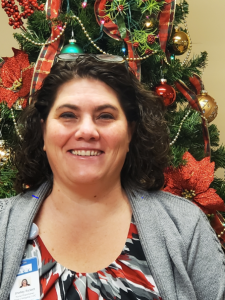 Shelley Rickett
Congratulations to Shelley Rickett, NP who has been selected as the Rosebud Health Care Center's December Employee of the Month!
Shelley initially spent time at RHCC as an RN in the hospital and nursing home while she was working on her Masters. She returned to Rosebud Health Care Center for a second time in October 2019 as a Family Nurse Practitioner. She has full-time clinic hours along with the care of nursing home residents and the emergency room/hospital rotation.
Shelley and her husband, David, have been married for 26 years and reside up Sarpy Creek. They share two adult children, Trey and Kylana and one grandchild, Hadley, who has quickly become the love of grandma's life!
Shelley enjoys spending time outdoors in her garden as well as family time camping, boating and lots of fishing. She also loves cooking and being in the kitchen. Shelley's favorite book is the Bible which she enjoys reading daily.
She has thoroughly enjoyed coming home. It's been a pleasure and privilege for her to be able to provide care for family and friends.