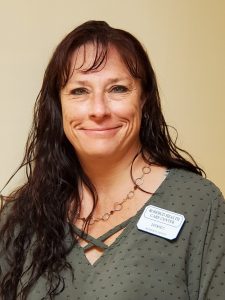 Congratulations to Jackie Cardwell, Rosebud Health Care Center's May 2020 Employee of the Month!
Jackie started at RHCC nearly 10 years ago as a CNA in the Hospital. She then took on the role as a Transcriptionist and Coder in Medical Records and currently works in the Business Office where she does Billing and Coding. Jackie is still able to help care for those sick and/or injured as she recently completed her EMT license and works part-time as an ambulance crew member in Forsyth.
Jackie is a single mother of three wonderful kids Katy, Nate and Austin. Katy just graduated from High School, Nate will be a Junior and Austin (or Auzzie as many know him) will be an eighth grader. Jackie notes her kids are her life and she is very grateful for them and all they do!
The family also has quite a few pets. Jackie has two dogs, Floyd (Great Pyrenees) and Moppie (Shih Tzu). Katy has an Idaho Shag named Ollie and Nate's dog Cleo is a Great Pyrenees/Border Collie. And to keep things exciting they also have two cats, Charlie and Felix.
Jackie loves planting flowers but her favorite activities include spending time with her kids and dogs and riding her motorcycle with her best friend, C.O.
Jackie feels she wouldn't be where she is today without the love and support of her family and great friends in her life. This leads us to her favorite quote: Thankful. Grateful. Hopeful.