MAY EMPLOYEE OF THE MONTH
Stephanie Kanning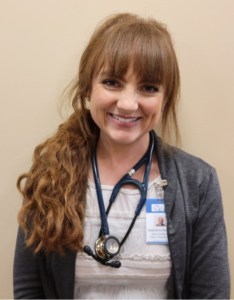 Stephanie and her family decided to move away from the city life in Billings, Montana to begin her journey at RHCC last year in August! Stephanie is genuinely loving the team, the mentorship, the support, the nursing staff, the leadership, and the small-town environment. She believes her favorite part is the wide variety that comes with rural care!
Stephanie's husband Zack (her soulmate) and their two smart and spirited kids (Miriam age 9 and Jack age 8) love spending quality family time together—especially with their new golden puppies, Barney and Betty! Whether it is being outdoors, movies, bike rides, camping, snuggling, reading, being with family and friends, or traveling—they just want the most out of life knowing how short and precious life is. Stephanie states she is a passionate soul, and she tries to put her all into most things she does or cares about! She loves to try new things and go on new adventures. She enjoys singing, dancing, laughing, gathering with friends and family, and traveling to new places now that her kids are older.
Stephanie is a small-town girl at heart. Stephanie and Zack were both born and raised in Plentywood, MT. She started in the medical field as a CNA at the Plentywood nursing home at the age of 15. Stephanie has also worked in the urban acute care hospital setting, ER setting, and now rural setting as a provider which she can now say is her favorite. Currently, Stephanie is finishing up her doctorate program, and she cannot wait to be DONE and graduate in September to have more time with family, community/church involvement, and time to play and have fun!
Out of all the quotes she enjoys, her favorite is her handshake with her daughter Miriam accompanied with this quote from Shakespeare, "Though she be but little, she is fierce" —which she states is the truth about both of them! Stephanie also loves reading books for pleasure instead of school, so she cannot wait to get back into some good best sellers to see what all the fuss is about and what she has been missing out on! Stephanie loves all kinds of music and movies and says she isn't too picky.
Stephanie would like to thank everyone for the warm welcoming and for wanting to make our community a better and healthier place to live for our children, families, and elders!