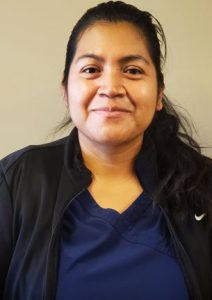 Congratulations goes out to Emma Garcia who has been selected as the Rosebud Health Care Center's October Employee of the Month!
Emma has worked at Rosebud Health Care Center for nearly two years in our Housekeeping department. She started with the Hospital/ER and Nursing Home but transitioned to the Clinic in the evenings and has been a huge asset to the staff. She is a very hard worker and in addition, co-workers have noticed she can be counted on to greet you with a warm smile that brightens your day!
She is currently participating in the CNA class and hopes to be involved in the care of patients and/or residents once training and testing is complete.
Emma and her family called California home for 13 years before moving to Montana. They moved to Forsyth in 2018 after spending four years in Hardin. She has three children, Erika (19), Chris (12) and Lexi (2). During the summer months, Emma enjoys spending time with her family by playing volleyball and basketball with her kids. Her favorite past time is hiking; so, she tries to get out and enjoy nature as often as possible. She also loves music, all kinds of music!