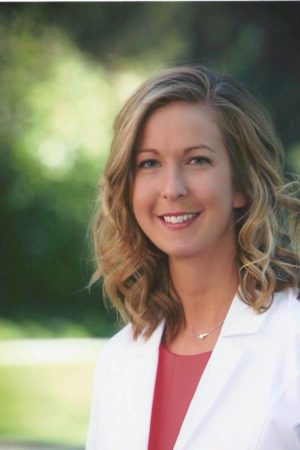 Rhea Wenschlag was born and raised in Jamestown, ND.  Throughout her high school career she participated in many activities including volleyball, soccer, DECA, band and the honor society.  Upon graduation she attended Minot State (North Dakota) for one semester before transferring to Jamestown College (now the University of Jamestown, ND) where she completed three more semesters before entering into the radiography program at the Mayo Clinic in Rochester, MN.  She attended Mayo School of Health Sciences for two years and upon completion of the program, received her Bachelors of Science degree in Radiologic Technology from Jamestown College.
Rhea worked in radiology at St. Alexius in Bismarck, ND for almost five years before entering into the physician assistant program at Rocky Mountain College in Billings, MT.  While working in Bismarck she met her husband, Willie; they have been married for a little over three years.  Willie works for Range Telephone Co-op in Forsyth as a combination technician.  Rhea and Willie are excited to settle down, are looking forward to finding a house, and getting a dog soon.
In Rhea's free time she enjoys playing pretty much any sport, hiking, camping, live music, getting together with friends, games, crafting and movie nights with her husband.
Rhea says she is excited to start her new career as a Physician Assistant with Rosebud Health Care Center and is honored to be surrounded by such a knowledgeable and experienced group of providers.  She hopes to bring a fresh perspective to the group and looks forward to continuing to build her skills.  She enjoys working with all age groups, getting to know patients and looks forward to building a practice here in Forsyth!
Rhea Wenschlag PA-C
2016 Graduate of Rocky Mountain College Master of Physician Assistant Studies Program
Clinic Office Hours Monday, Wednesday, Thursday, Friday 8:00 am to 5:00 pm
Phone 406-346-2161
Fax 406-346-7478